SCUBA CERTIFICATION
We offer a wide range of SCUBA certification packages. No diving certification or Scuba Diving School in San Diego offers you a more comprehensive dive certification program for recreational Scuba Diving.
I. Group Instruction (3 or more persons per class)
Basic Scuba Certification: $ 650.00 includes scuba equipment; books, wetsuit, dive tables, dive log, certification registration, certification card and certification with National Association of Underwater Instructors (NAUI).

Registration: Students register and pay tuition two weeks prior to the class start date, read the text and complete the workbook exercises and e-learning test by the first night of lecture. A group is three to four students. Tuition includes materials, SCUBA diving equipment, and three weeks of group training in the classroom and ocean as follows:
Three Week Group Training includes:
Materials: Textbook, workbook, dive log book, dive tables, student registration and certification card from the National Association of Underwater Instructors (NAUI).
1. Diving Equipment included: Wetsuit, tanks, weights, air, regulator, and buoyancy compensator.
2. Six evening lectures, 6 p.m. to 7:30 p.m. on Monday, Tuesday, and Thursday.
3. Four hours the second weekend at Mission Point Saturday and Sunday 7 a.m. to 12 p.m. in shallow water for scuba skill development and 1 dive.
4.  Four Scuba dives the third weekend. Saturday and Sunday 7 a.m. to 11:30 a.m. Two dives on Saturday at La Jolla Shores and two dives on Sunday at La Jolla Cove.  All dives are conducted off the shore.  Missed lectures and dives can be made up for an additional $140 per dive before the next session. 
Student must provide:
Mask, snorkel, fins, boots, gloves, and cold water hood (525.00 plus tax), notebook, 10 key calculator, swimsuit, water resistant watch (up to 10 atmospheres) and towel.   Snorkel Kit
Physician's Fitness Evaluation
A diving physical examination by a physician is recommended with your doctor's written approval prior to participating in diving activities.  This is not a training agency requirement but If you Body Mass Index (BMI) is higher than 30 please call our office before signing up for this activity. 
Student Swimming Ability
All diving training agencies in the United States state in their standards and procedures that a candidate for Basic Scuba Certification must demonstrate the ability to swim. You must complete this evaluation successfully.
The student swimming evaluation consists of:
1. 50-ft lateral swim underwater, one breath only
2. 220-yard swim in less than twelve minutes
3. 50-yard wrist tow of another swimmer without swim aides.
4. 10-minute thread water
5. Retrieval a five pound object from twelve feet of depth.
Certification is not guaranteed. Students must successfully complete the written test with an overall score of 75% or higher and demonstrate all skills in the water satisfactorily.
II. Semi-Private Instruction (2 Students per class)
Basic Scuba Certification: $2195.00
Approximately 40 hours of Instruction on a schedule which meets your time requirements — to be set by you and your 'buddy'.
III. Private Instruction
Basic Scuba Certification: $2195.00
Approximately 40 hours of instruction on a private, one-on-one basis.  Class times can be arranged to fit your schedule All classes at our facility. In home pool instruction is available ask for quote on cost.
CALL 1-619-260-1880 FOR FURTHER INFORMATION
CERTIFICATION PROGRAMS:
Basic Group Certification
Basic Semi-Private Certification
Basic Private Certification
Advanced Diving
Night Diving
Rescue
Dive Master
Assistant Instructor
SCUBA SAN DIEGO, INC.
Diving Instruction with a quality difference.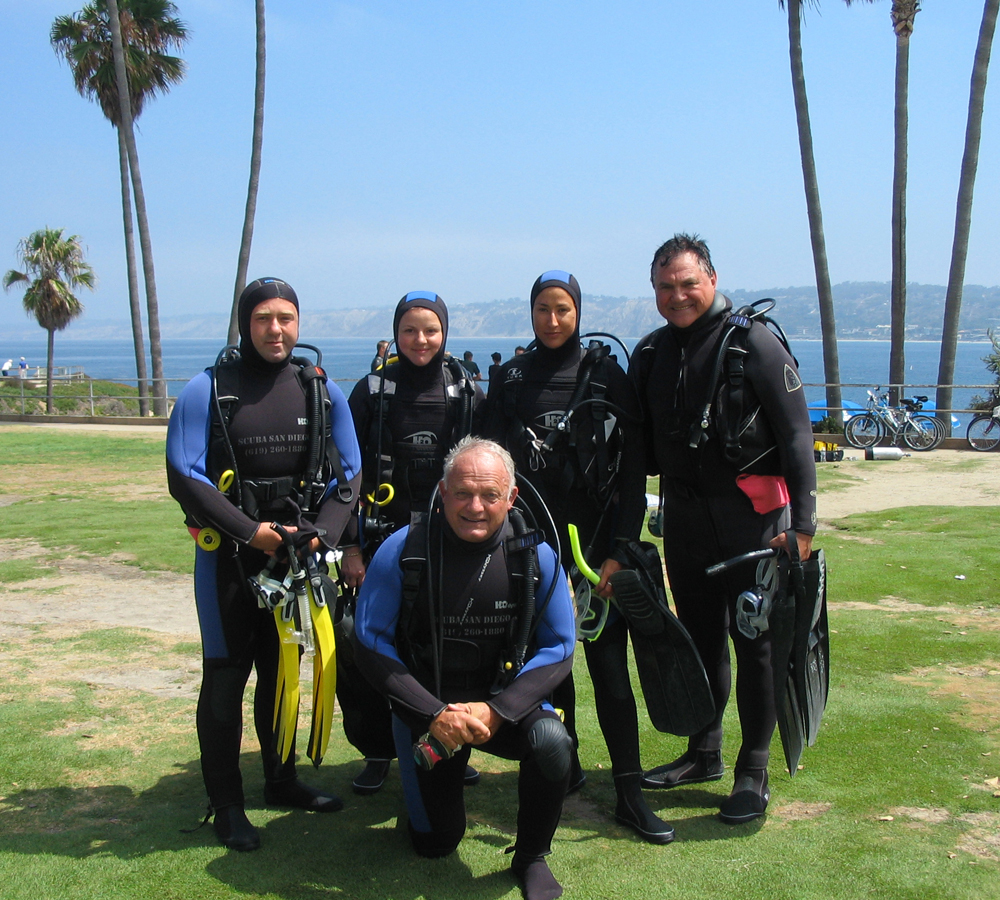 NOTE:  We will not provide any form of accelerated or 'cram course' certification.  It is our philosophy that an educated diver is safer and more likely to keep diving throughout his or her life.  Many of our basic SCUBA divers have gone on to become great dive leaders.  A good education requires a time commitment.