Diving with SCUBA and snorkeling in La Jolla Cove is a good place to find Abalone. This mollusk, class Gastropoda, is considered the ultimate delicacy on dinner tables around the world, but particularly in Asia, which accounts for over 75% of the Abalone demand world wide. Some abalone, depending on the final processed form, can sell for as much as $800 kg ( $363.00 lb.) to $7500 ($ 3400.00 per lb.)
No abalone have been legally taken in La Jolla Cove since it was deemed and Underwater Park by the City of San Diego in 1979.
However, the fishery was closed entirely south of the Golden Gate Bridge in 1977 and this year, 2018,  the entire California coastal abalone fishery has been closed  until further notice.  This closing is due to the collapse of California's coastal kelp forest system.  Kelp is the mollusks' primary food source.
California has eight species of these Gastropods.  There are:  Red Abalone Haliotis rufescens, Black Abalone Haliotis cracherodii, Green Abalone Haliotis fulgens, Pink Abalone, Haliotis corrugate,  White Abalone, Haliotis sorenseni, Pinto Abalone, Haliotis kamtschatkana, threaded Abalone, Haliotis assimilis, and Flat Abalone, Haliotis walallensis.
The Green abalone Haliotis fulgens is most common one found in La Jolla Cove and they are fairly abundant in the near shore rocky ecosystem of the Cove.  In the world market, when a California commercial fishery was legal, California Reds and Greens where the most  prized for the flavor and size.
Our expert guides at SCUBA San Diego have a keen eye for these interesting snails and will be sure to point them out to you when you are out  on our scuba diving tours or snorkeling tours.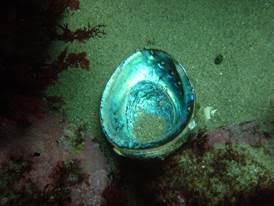 Green Abalone shell on the bottom.  Probably eaten by an octopus.
Here is a Green abalone with a spiny lobster as neighbor.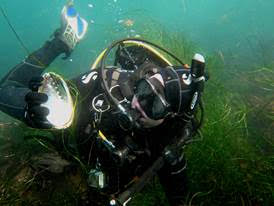 Diver photo op with Abalone shell.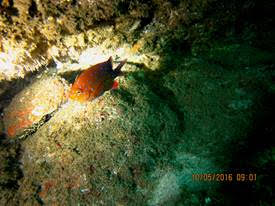 We had been seeing this abalone for over 5 years in the same spot.